Production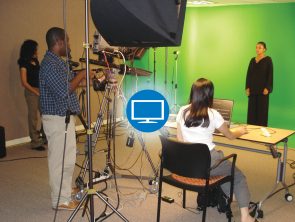 Our production team has made video production solutions a reality at Sonshine Communications. Through our state of the art editing suites and studios, our creative team can handle everything from final editing to product development. Some of the many services offered include
FINAL EDITING
We make a change for the better! We use a digital editing system that integrates a variety of video formats (Digital Betacam, DVCam, etc.) to allow for a high quality, streamlined product.
VIDEO TELECONFERENCING
We help you to see and be seen! With our movie theater, we can connect you with anyone around the world so that you can share ideas and information using video.
AUDIO/VIDEO TAPINGS AND RECORDINGS
We take it to the limit! We record quality audio and video tapings in our full service studio.
VIDEO & AUDIO RELEASES
We call for lights, camera, and action! We will write exciting scripts and copy, produce programs for electronic broadcast and distribute releases to capture your target audience.
PRODUCT DEVELOPMENT
We can develop any product you instruct! From TV commercials to infomercials, we will help you to wow your target audience.
Testimonials
While we were used to working with a lot of ad agencies for different parts of our campaigns, last year, after a refreshingly successful ad campaign by these guys, we've decided to handle all of our activities to them!